Baby Bibs – Soft Flexible Silicone Waterproof Baby Bibs with Unique Food Catcher – Pack of 3 with Bonus Silicon Feeder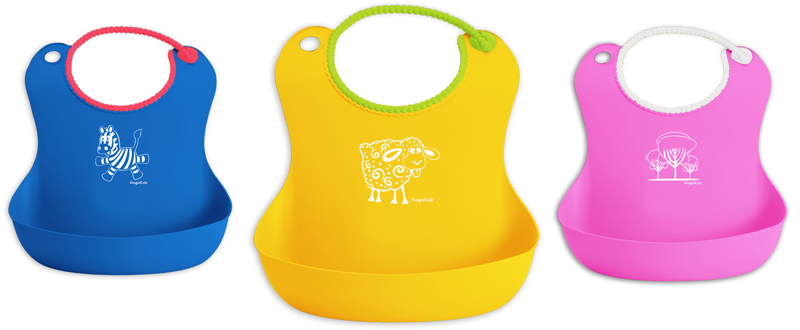 Product Details
Silicone

Soft and Flexible and will adjust to all positions in car seats and high chairs. Easily adjusts with one snap for all sizes and ages from 3 months to 3 years. Custom fit neck is easily adjusted with just one hand. Toddlers can even put it on themselves. Often used for mealtime and messy playtime activities because it keeps your child both clean and dry.

Waterproof and will not allow even the messy eaters or drinkers stay dry underneath so its perfect when traveling in the car to be sure you arrive fresh and dry and clean. A perfect shower gift.

Unique Spill-Catcher pocket keeps the floor clean no matter where you use it. The Spill-Catcher is large and waterproof so keeps the food off of the floor and easy to wipe up.

Environment Friendly BPA Free, Lead Free, Phthalate Free and completely Food Grade Non-Toxic materials. Children can chew on it all they like. FDA and LFGB Approved Materials. Just wipe clean or put in the dishwasher top rack.

Highly Adjustible Neck for all ages. Easy to Clean. Dishwasher Safe. Very Durable and Long Lasting. A Shower Gift Favorite.
Included are 3 Bibs and a Special Bonus Silicone Feeder all in one complete Package. Keep one at home, one at daycare and one at the grandparents or friends. The special bonus feeder is included as an exclusive benefit to help you introduce fresh and real solid foods to your child without the worry of choking These Silicone Bibs are super soft and flexible to adjust to all the positions and places you might use them. They are completely waterproof and contain this fantastic spill-catcher pocket that keeps food and drink off of the floor and off of the child. It makes cleanup especially easy and quick and is especially good when traveling in nice clothes to keep them clean and dry until you get to your destination. Included are 3 because as we have found most people keep one at daycare, one at grandparents or a friends, and one at home. The roll up easily and are great to keep in the car or purse for easy and quick access. The Bonus Food Feeder is a unique item that allows you to put fresh fruit items inside of the silicon chewing unit without worrying about choking. It safely allows even the youngest child to enjoy real and fresh food without the worry of choking or chewing issues. Favorite Feeder foods are strawberries, bananas, oranges. Apples and pears come in right behind. This collection comes with eco-friendly packaging in a small bag with an included use and care guide. It is a favorite item for baby showers and new baby arrivals because of the unique spill-catcher and waterproof design. It is a perfect combination for any size family and will last for years.
GingerKids Baby Bibs Product Description
GingerKids Baby Bibs Use and Care
Eco-Friendly Thermoplast Baby Bibs Are the Number One Choice for Parents
Are you a parent or caregiver of a child 6 months to 3 years-old?  Are you tired of those raggy and ineffective cloth bibs that hold onto stains and bacteria?  Then I have great news!  TPE (called Thermoplastic by the scientists)  Baby Bibs are making their way to the top of the must-have list for toddlers everywhere and are soon going to make those old bibs a thing of the past.
Earth-Friendly Means Baby-Friendly
TPE Baby Bibs are revolutionizing the way people feed their children.  Not only are they making them more convenient than traditional cloth bibs, but also eco-friendly.  Thermoplastic bibs are made from 100 percent all-natural, food-grade materials and are free from all those nasty additives – BPA, Lead, Latex, PVC and Phthalates – over time, these can become toxic and harmful to little bodies.  In addition, these bibs are super-soft and pliable, which means no harm can be done to your child if they were to chew or tug on them.
Smart Design
One of the smartest features that has been added to TPE Baby Bib is the catch-all pouch.  This little "trough" of sorts catches all those dribbles and messes that tend to escape the beginning-eater's mouth or hands.  And being made from Thermoplastic, the bib will always keep fluids or spills from soaking into your baby's clothes.  No more stains!
Easy-to-Clean
These bibs are also scoring high points with the ease of which they clean up after your child.  Simply take the bib off your toddler and dump the lost food and spills into the sink or garbage.  Now rinse it under hot water, or place in soapy dishwater to clean, then set aside to air dry.  What could be easier than that?  You're right, the dishwasher can and we have you covered there as well.  We've thought of everything for these awesome bibs.
Made-to-Travel
With these  Bibs, their nature of being waterproof and soft makes them so convenient for the busy moms, dads or caretakers.  With super-soft and pliable TPE, these bibs will roll right up and can be stashed away most anywhere.  Take one with you to the park, in the car, out for meals or snacks or even in the stroller for a long walk. These bibs can be tucked into anything or anywhere.  A fussy baby is an unhappy baby so always be ready to feed your hungry toddler on a moments notice, without worrying about a messy and dirty clean-up afterwards. Why waste another moment with those old disgusting cloth baby bibs that wear out and look horrible overtime?  Grab a package of TPE Baby Bibs and see what a difference this small change makes at mealtimes.  Most stores sell them in a package of three, so you will always have one on hand, one to travel with and one to leave with the grandparents or babysitter.  So simple and affordable, you'll never go back to cloth bibs again.
View our special baby feeder, perfect partner for  baby bibs.
Free Reports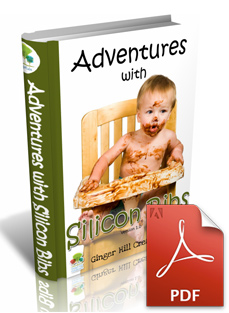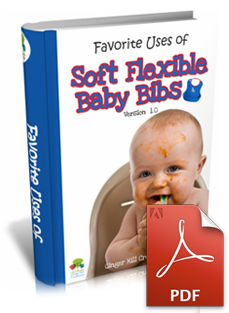 FAQ
Can I wash the bib in the Dishwasher?
Yes you can put it on the top shelf of the dishwasher.   Just be sure that the spill-catcher pocket is pointed down so that the water drains nicely when drying.
Do the bibs work with car seats?
Most people use the bibs with car seats because it keeps baby clean and dry while in transit, and the spill-catcher pocket also keeps the car fairly clean from crumbs and debris.
Where do most people keep their three bibs?
We have found that one is used at home, one at grandparents, one at daycare, and if not at grandparents one is in the car because of eating and drooling and messy conditions while in transit.
Besides Eating, what are the other uses of the bibs that you mention on your website?
People use the bibs in other messy situations such as when finger painting or doing other crafts that create spills or crumbs.   Since the bibs are waterproof, and usually fit up until over three years old they are favorites for uses with various craft activities as children age.  Water colors for example.
The Feeder is a wonderful surprise, what foods do most people use in it?
The favorites are:  Grapes, Oranges, Apples and Strawberries, but some families also use it for fresh vegetables such as peas, cooked carrots and other fresh vegetables as they get accustomed to truly fresh solid foods.