Design to help your baby when they are in rearward facing carseat, without having to turn your head while driving.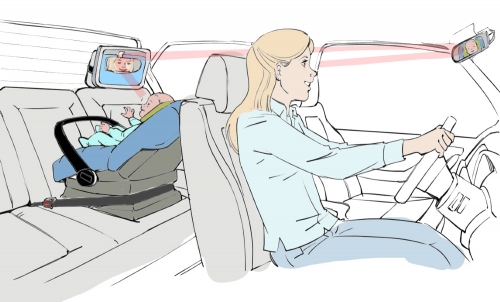 Easy to fit – mirror attaches in seconds to rearseat head rest and rotates and pivots for a clear view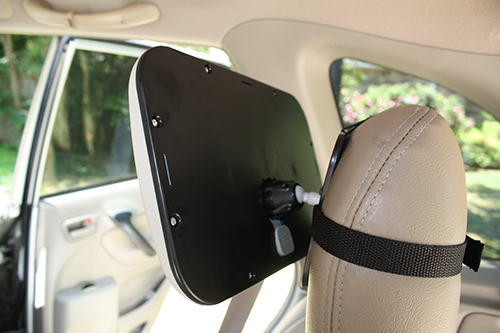 Extra large convex mirror with pivot attachment provides an expanded view of baby at any angle.
No obstruction in rear visibility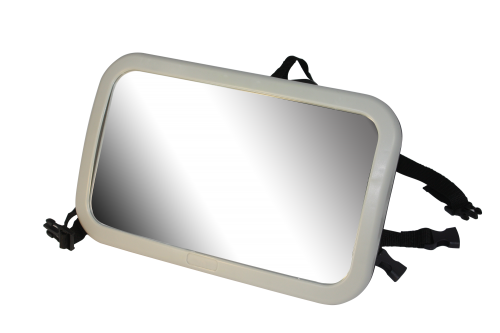 Fitting Instructions: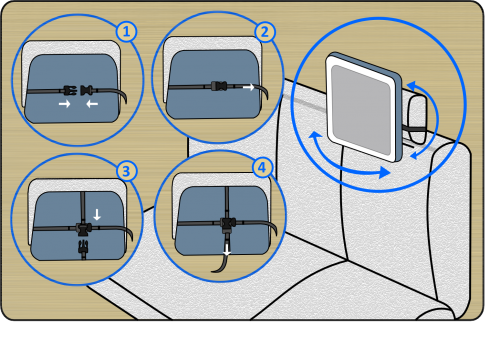 1. Undo the strap and wrap it around the headrest
that is opposite to where the infant will sit, and
fasten the clasp.
2. Pull the strap to secure the mirror to the headrest.
3. Sit in the drivers seat in a normal driving position.
With the assistance of a helper (if available)
adjust the mirror on the rear head rest to give you
the best view of the infant
This Mr. Peekatmee Backseat Safety Mirror provides a complete wide-angle view of your child in the back seat, while providing additional safety and comfort features for both you and your child.  The convex mirror itself is currently the largest of its type on the market and with the convex ultra-clear and super-sharp mirror coating provides a complete image of your child from many angles.
The unique Pivot-Ball Adjustment on the mirror allows for swiveling of the mirror to adjust for most vehicles shapes and sizes so that no matter what configuration of your vehicle and car seat you can adjust to see a full view of the baby.   The Pivot-Ball Adjuster attaches with strong and secure straps that use a standard click-lock quick release attachment that securely tightens to your exact needs.  Nothing will ever go flying about while driving, and it quickly can be moved between cars if needed.   You likely will want one for all your family and grandparents vehicles.
Besides a great view of baby, your child also will have a great view of the driver in the rear view mirror so will always feel the comfort and connection and security of knowing that the driver is there and watching.
Made of almost unbreakable acrylic plastic, the mirror itself provides a super-clear and crisp image but is not glass and will not break or shatter with rough handling.
Know what your baby is doing while you drive and have the knowledge and security of knowing that if anything is happening to your child in the back seat that you will immediately know, while at the same time knowing that your child can see you and know that you are there with her/him.
Comes in a strong and attractive gift box which makes a great shower or new-baby gift.  Don't forget one for Granny.   Get two!   Brought to you by Ginger Hill Creations who have additional free videos, free product lifestyle books, and related coloring books available on their website.
Free Reports